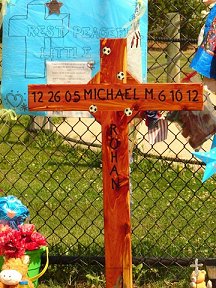 On June 10th of this year, the Creative Director of Silver Gryphon Games, Kevin Rohan, lost his 6-year-old son in the aftermath of a tragic accident while swimming at a local water park. This loss has deeply affected the Rohan family as well as the friends of the Rohans and hundreds of families that they are close to and through out the community.
Seeking to turn this tragedy into community outreach, the Rohan family has decided to start the Michael Rohan Memorial Fund which will be used to help pay for swimming lessons for local families, assistance for CPR and lifeguard training, as well as help with grief counseling in the wake of a tragic loss.
There are plans for more and bigger things as well, and with the appropriate funding we will be able to achieve some great things and extend our assistance beyond just our local communities.
The bundle offer closed on 1 August - I shall report on the amount raised once I find out myself! A big Thank You to the publishers who have made this possible, to DriveThru for making it happen, and in particular the good folks at Fabled Evironments who put it all togehter. Here's a list of them and their contribution to this worthy cause - some $270-worth of product for a mere $12 donation:
12TM: Chickens in the Mist: Pinnacle Entertainment
Albenistan: Election Day (Modern Dispatch 113): Sword's Edge Publishing
Anderia: Brittannia Game Designs Ltd
Anderia Map: Brittannia Game Designs Ltd
Angry Flowers!: Rarr! I'm A Monster Publishing
Arcane Kingdoms: Sword's Edge Publishing
Argyle & Crew - Adventure in the Land of Skcos: Troll in the Corner
Argyle & Crew's Little Book of Big Ideas: Troll in the Corner
Call to Arms: Archer's Arsenal: Fat Goblin Games
Call to Arms: Tomes of Power: Fat Goblin Games
Celts Set: Arion Games
Citadel of the Winged Gods: GRAmel
CLASSifieds: Pyromancer: Fat Goblin Games
CLASSifieds: Striker: Fat Goblin Games
CLASSifieds: Wolfsworn: Fat Goblin Games
Comicworld Germany: GRAmel
Comicworld Ukraine: GRAmel
Cooking With Class: Fat Goblin Games
Daring Tales of Adventure #01 - To End All Wars & Chaos on Crete: Triple Ace Games
Death of the Tyrant: GRAmel
Devious NPCs and Curious Creatures [PFRPG]: Troll in the Corner
Dragon Reaches Map: Brittannia Game Designs Ltd
Dragon Reaches of Marakush: Brittannia Game Designs Ltd
Duck Soup: Rarr! I'm A Monster Publishing
Equipment Cards: GRAmel
Fantastical Currencies - Dark Kingdom Edition: Fat Goblin Games
Fantastical Currencies: Dwarven Treasure: Fat Goblin Games
Fantastical Currencies: Kingdom Edition: Fat Goblin Games
Fantastical Currencies: Kingdom Edition Master Set 1: Fat Goblin Games
Fantastical Currencies: Kingdom Edition Vol. 2: Fat Goblin Games
Gods of Aruneus: Troll in the Corner
Hellfrost Adventure: #01 - Lair of the Vermin Lord: Triple Ace Games
Herbology of Aruneus: Troll in the Corner
Hex Grid: Battle Tiles: Armor Grid Games and Miniatures
HMS Relentless: Encompass
Ingenium: Silver Gryphon Games
Justice City Superpowered: Gamers Haven Publishing
King Arthur Set: Arion Games
Madam Mombi presents: Superstitions & Cottage Myths: Fat Goblin Games
Mi Gato se Incendia! (My Cat is on Fire!): Troll in the Corner
Mirkmoot's More Magical Mayhem for Creatures Small and Great [PFRPG]: Troll in the Corner
Modern Dispatch (#104): Line Zero: Sword's Edge Publishing
Modern Dispatch 120: Cyber-state Avatar Toolkit: Sword's Edge Publishing
Modern Floorplans: Hotel: Fabled Environments
Modern Floorplans: Passenger Jets: Fabled Environments
Modern Floorplans: Summer Camp: Fabled Environments
Modern Item Cards: Fat Goblin Games
Monsters Set: Arion Games
Necropolis 2350 - Opener of the Ways: Triple Ace Games
Nemezis Soundtrack: GRAmel
Old School Fantasy #1: A Keg for Dragon (Savage Worlds Edition): Reality Blurs
QADD: Double Shot Solos: Rarr! I'm A Monster Publishing
QADD: Quick and Dirty Dungeons: Rarr! I'm A Monster Publishing
Quantum Sliders: Arabian Nights: Savage Mojo
Racial Ecologies: Guide to Catfolk: Fat Goblin Games
Racial Ecologies: Guide to Minotaur: Fat Goblin Games
Racial Ecologies: Guide to Ratfolk: Fat Goblin Games
Savage Insider Premium Issue #1: Mystical Throne Entertainment
Savage Suzerain Player's Guide (Savage Worlds): Savage Mojo
Savage Tales #10: Through the Cathode Ray Tube: Pinnacle Entertainment
Saxons Set: Arion Games
Scaldcrow Generic: Town of Hokum: Scaldcrow Games
Schroedinger's Box - Savage Worlds: Silver Gryphon Games
Sir Reginald Lichlyter's Wine & Spirit Emporium: Fat Goblin Games
Steampunk Musha Explorer's Guide: Fat Goblin Games
Story Maps: Desert Oasis: Savage Mojo
Superior Synergy: Fantasy PFRPG Edition: Misfit Studios
Superpowered Dossier: Blue Streak: Gamers Haven Publishing
Superpowered Dossier: Cerberus: Gamers Haven Publishing
Superpowered Dossier: Crimson Bolt: Gamers Haven Publishing
Superpowered Dossier: Eclipse: Gamers Haven Publishing
Superpowered Dossier: Turnkey: Gamers Haven Publishing
Tavern Menus: Fat Goblin Games
Tavern Menus: Pirate Food & Spirits: Fat Goblin Games
The Dark Fantasy of Sundrah - Core Rulebook: Scaldcrow Games
The Roleplayer's Leechbook: Fat Goblin Games
The Schwartzentoten-Moonbeam Device: Troll in the Corner
The Supplicant - a new class for Aruneus and Pathfinder: Troll in the Corner
The Tower of Dr. Alienstein: Scaldcrow Games
The World of Aruneus - Contagion Infected Zombies 2.0 [PFRPG]: Troll in the Corner
The World of Aruneus - Orcs! A Player Character Expansion [PFRPG]: Troll in the Corner
Tomorrowland: The Art of Aaron Acevedo: Sigil Entertainment Group
Toys for the Sandbox 01: Apothecary: Occult Moon
Toys for the Sandbox 02: Fairy Glade: Occult Moon
Toys for the Sandbox 03: Gambling Gryphon Inn: Occult Moon
Toys for the Sandbox 04: Hermit's Island: Occult Moon
Toys for the Sandbox 23: Pirate Island: Occult Moon
Wanted: Dead or Alive: Fat Goblin Games
Wellstone City: Silver Gryphon Games
Where Heroes Fear To Tread: Brittannia Game Designs Ltd
Zombie Death Town: Rarr! I'm A Monster Publishing
Zombie Death Town Multi-player rules: Rarr! I'm A Monster Publishing
Æther Core Book: Silver Gryphon Games
Product page last updated: 1 August 2012