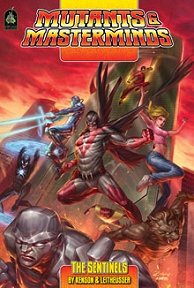 The only awkward thing is that this comes as a whole bunch of seperate PDFs, one for each character... but you do get the HeroLab files as well, should you use that.
Publisher's blurb: "The Sentinels are the heroes of Emerald City and they're also featured in a lot of the art in the new third edition's Mutants & Masterminds Hero's Handbook. The team is made up of ten heroes, each created to be a playable power level 10 character. Grab them and start using them in your own games! The Sentinels PDF includes ten heroes, they are:
Dragoneye - Asian mystic with the ability to channels aspects of the Dragon.
Kid Robot - An artificial intelligence with a kid-like attitude, robot body, and force field/force blast powers.
Mongrel - A man able to turn himself into a bestial, wolf-like hero to protect the people of the city.
Princess - Super-strong and tough geek girl who just wants to help.
Rocky - Former mutant child-star turned has-been. Now he's using his incredibly powerful stone body the best way he can... to knock some blocks off!
The Rook - A martial artist who uses gadgets of his own design to tackle the criminals of Emerald City.
Ultramarine - A battlesuit-wearing heroine who's just as comfortable under the ocean as flying over the city.
Victor - Bred from birth to be the leader of heroes. Victor is the pulp action hero of today, armed with the technology of tomorrow.
Vortex - Former thief turned teleporting, dimension-hopping, energy-blasting superhero.
Xeno - An alien shapeshifter with incredible strength, the ability to fly, and fiery eye-beams!
"Each hero includes their history, a short description of their personality, powers and abilities, full write-up, and even a sidebar on how to use them as villains if you want."
More when I get hold of a copy!
Book Details:
Authors: Steve Kenson & Jon Leitheusser
Publishers' Reference: GRR0002
ISBN: n/a
PDF, pages
Date: January 2011
Buy this product:
Product page last updated: 5 March 2011