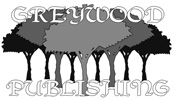 Formed by a couple of role-playing friends in South England, who were inspired by the likes of the original Fighting Fantasy books, so after one of the founders of this company had worked on the D20 adaptations produced originally by Myriador, as well as on design work for many other RPG publishers, their own company as a vehicle both for their own ideas and continuing the work of others seemed a foregone conclusion. Long may such enthusiasm continue and give us games worth playing!
Crime Scene - D20 Modern sourcebooks
Dungeon Tiles
Fighting Fantasy - old 'game books' retooled as D20 adventures
Fright Night - D20 Modern horror material
Lesser Shades of Evil
QUERP - designed as an introduction to role-playing
Visit their website.
Company Section last updated: 22 July 2009