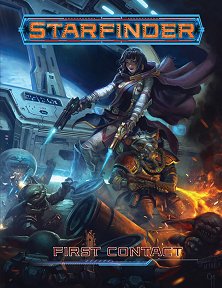 Interestingly, rather than the usual short adventure to introduce a new game this taster work presents a mini-bestiary of new alien races that can be encountered in local space. Given the similarity of the new system to the Pathfinder one on which it is based, these creatures can be used in a Pathfinder game.
However, there are some differences between the two systems and a couple of pages are devoted to explaining them. Most of the changes are relatively trivial and should only trouble those who obsess point-by-point. How to tweak them is also explained. Naturally there are some new abilities due to the science-fantasy setting, and these are also explained here.
Then it's on to the creatures themselves, eleven of them. Needless to say, a Space Goblin is included. Legend has it they are descended from some regular Golarion ones who stowed away on an early spaceship, and indeed they haven't changed from their ancestors... and are mostly found on Absalom Station although they do travel the spacelanes as well. Being space-FANTASY many of them sound pretty much like any other monster just with a few space-faring tweaks, and things like undead are included.
One of the pleasures of playing any futuristic game is having the chance to play an alien. Some of these creatures have the potential to be used as player-characters, and these are provided with a section of information called Racial Traits designed to facilitate generating characters of that species. It's not quite as straightforward as deciding to play an elf or a dwarf, but it can be done.
It's clear that you are still in the same universe as you have been playing Pathfinder, certainly if your game runs on Golarion, the core setting world. These beasties all settle in to the same style and you can imagine a biologist from Golarion not being too surprised at meeting any of them. It's all nicely illustrated, with a single page per creature bestiary-style. Give them a whirl...
Return to First Contact page.
Reviewed: 2 January 2018