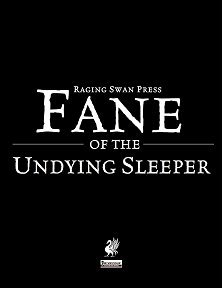 To be honest Coldwater doesn't sound the idea place to visit. Full of smugglers, shrouded by mist and muddy underfoot... but you may find adventure there.
Coldwater, the author explains, is situated in the Duchy of Ashlar but may be placed anywhere suitable in your own campaign world. The village itself and other locations for this adventure are detailed richly, but everything else is vague enough for you to use it in conjunction with other material within your game. We learn of a demon cult and the demon being worshipped, obscure enough that you can slip him in too (unless you prefer to substitute a better-known evil being of your own).
Background done, the adventure begins when the party arrives in Coldwater. Several hooks are provided to get them there, but whether they went there to find it or not, they will soon hear about or stumble across some slimy steps leading down into an area that's nearly always underwater. Yet in a couple of days time the tide is low...
This gives the party time to get oriented, pick up supplies, make inquiries and actually find the steps. To that end, Coldwater is described at length along with notable personalities and interesting locations to visit. There's a map, rumours to pick up and many delightful details to bring the place to life (and of course you can continue to use the village long after the steps have been explored, or even if the party decides not to go there). Basically, this section repeats the contents of Village Backdrop: Coldwater, also available from Raging Swan Press.
We then move on to those slippery steps that are only accessible if the tide is very low - and then only for an hour or so, hence adventurers need to be quick about their explorations - indeed the GM is warned to keep track of time. The party may choose to go by sea or by land, both options are accommodated with their own encounters. The steps lead up to doors (also usually underwater) that are hard to open, but are watertight. Once inside, there's the place of worship of that demon cult to explore. It's not in use these days, but certain... influences remain.
In case the party takes too long about its explorations, details are provided for dealing with the rising tide from advice on how to describe it to all the mechanics necessary for moving, fighting and even drowning in water.
The Conclusions section lays out various options. There's scope for the party to get out dry-shod, or for you to add more to the fairly simple underground complex, or they may end up soaking wet; and a couple of ideas for how to continue the adventure once they have left. Six pre-generated characters are provided if you want to dive straight in to the adventure. It all makes for an atmospheric, if soggy, adventure, a good chance for a low-level party to stake their claim to fame!
Return to Fane of the Undying Sleeper Collector's Edition page.
Reviewed: 30 November 2017