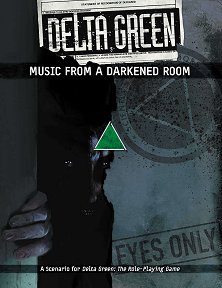 This adventure begins with the party being asked to investigate the mysterious death of a veteran Delta Green agent (and FBI agent) in a suburban house that has a bad reputation in the neighbourhood - their task is to determine if the house itself poses a threat. The local coroner has pronounced him a suicide, and other Delta Green agents in the FBI worked to maintain this as the official story, but the organisation has doubts and wishes to know the truth... but not for it to get out. The locals feel the same way, so this is an investigation that must be carried out discreetly.
There's a What's Going On section that gives you the low-down on the house, its history and what is actually happening there: a sad story spanning over an hundred years. There are various avenues of enquiry that the party can follow, and masses of information to enable you to give appropriate responses as they investigate. The main strands that they can pursue include the house itself, official records, talking to the locals, and researching the history of the house... and of course they may choose to do all of these or more. It's well to be really familiar with the material before the game, and to keep in mind the consequences of what they do and - even more importantly - how they choose to go about it. They should find it quite easy to attract attention, and there are notes to aid you in ensuring that it's the wrong kind of attention!
It is an atmospheric and almost claustrophobic tale of small-town America. Visiting the house itself, which curious party members are almost certain to do, is a terrifying and potentially deadly experience. Play this up... it's enough to give the players nightmares if done right, never mind their characters. There are ways to clear things up, but most of the options are obscure and you may have to give even competent investigators a few hints. Suggestions are made as to how to do this, and not all the methods are successful, even if the very high price that must be paid. Overall it's an excellent creepy haunted house scenario that should haunt your group long after you have played it!
Return to Music from a Darkened Room page.
Reviewed: 15 November 2017