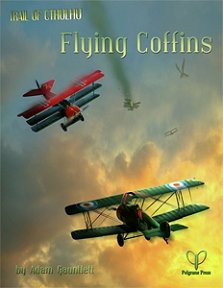 This adventure takes us back to the First World War, to early 1918 with the Investigators as intrepid pilots in the British Royal Flying Corps. The German pilots seem unnaturally successful... and of course, Mythos creatures are behind it all. How will our brave aviators get on?
The background material explains which Mythos creature is to blame - they're to be found in the atmosphere around 20,000 and resent these pesky impertenent humans in the flying machines intruding into 'their' airspace. At least they don't care if the intruders are British or German, they are annoyed by all of them! Or at least, not until one of the Germans paints a 'good luck' sign on his aircraft - unfortunately one suggested by a sorceror relative who showed him how to draw a Yellow Sign. The spine of the adventure is laid out, and with the help of no less a worthy as Arthur Conan-Doyle (currently working as a war correspondent) and the urging of Military Intelligence, the Investigators find themselves engaged in aerial duels with a leading German ace...
There is a section on aerial combat, both game mechanics and an idea of tactics, with quite an elegant system to handle an aerial dogfight between two aircraft. There's an example to demonstrate the system in action, and details of the aircraft used by both sides in the conflict. Anti-aircraft fire, attacking ground targets and other aspects of earlu aviation warfare are also covered. There is plenty here to empower some exciting combat in the air during your game.
It all begins with a sortie to destroy a German observation balloon somewhere over the Western Front. During the ensuing dogfight, the Investigators notice a flying creature hauling a pilot bodily out of his aircraft and flying upwards with him, casually tearing his head off as it leaves! From then on the adventure intensifies as the Investigators try to find out what is going on and then after several aerial encounters comes the climax of the adventure, with Allied forces making a big push on the ground with aircraft of all nationalities swarming overhead.
Six pre-generated characters are provided, and there are some good photographs of appropriate aircraft. If for whatever reason you don't want to play members of the Royal Flying Corps a few changes to names and backgrounds - and to the aircraft they fly, of course - will enable you to play American, French or even German aviators instead.
This adventure provides an interesting glimpse into how the Mythos can disrupt conventional warfare (even if it's almost by accident), a neat bit of alternate history that provides for an exciting scenario. The rules for aerial combat work quite well, even if you don't want to add the Mythos into the mix and prefer a 'straight' WW1 aviation game or campaign.
Return to Flying Coffins page.
Reviewed: 22 March 2017