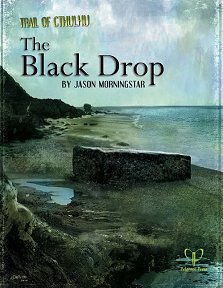 Cabable of working well in both purist or pulp modes (or a combination of both) this adventure is set in the remote Kerguelen archipelago (far south in the Indian ocean), which is just about to be abandoned. Oddly, just as the settlers depart, a German expedition arrives with mysterious purpose... and what lurks there, in the bleak rocks?
The background explains all for the Keeper and lays out the terrible choice facing the Investigators. You may decide to keep this as a one-off, or notes are provided if you prefer to weave it into an existing campaign (but bear in mind that this adventure may well be the party's last if you do). Pre-generated characters are provided and they are, of course, all embedded into the story. If you are using your own characters, assorted reasons for why they might be there are provided.
The adventure itself begins on the voyage to the Kerguelen Islands, and there's plenty of interaction to be had (and clues to be picked up) before the ship arrives there... and a bleak, cold and unwelcoming place it is, too. Everyone is dropped off, their ship has other matters to attend to and will be back to pick them up in a couple of weeks. There's a flurry of activity with the last few settlers packing up, the German expedition turns up having lost one of their number and again there are plenty of opportunities for interaction and to find yet more clues... and then things begin to go wrong. Murder and arson are the least of it...
The Investigators will be able to wander the main island pretty much as they please: there's plenty to be found... and a fair bit going on. And eventually they will find... well, the climax involves a dark and dreadful deity, cultists hell-bent on restoring his power and even greater fanatics trying to stop it. Anyone not ending up a sacrifice or in some other way dead will be very lucky indeed.
There's a wonderful sense of bleakness and approaching menace, a creepy cinematic atmosphere that thickens with every moment. NPC notes, handouts, a couple of photos of wildlife, and maps of the islands (and a ship plan) help you keep on top of everything and create a chilling adventure that will live long in the players' minds (there's a good chance that their characters won't survive to remember anything, though)... and all under the threat that if that deity isn't stopped things look bad for the entire world.
Return to The Black Drop page.
Reviewed: 30 January 2017