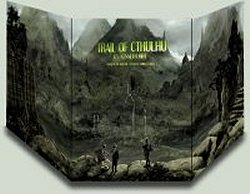 This product consists of two parts, a cardstock screen and a substantial (68-page) resource book aimed at the Keeper (GM) - it's good to see that traditional term coined by Call of Cthulhu for the GM has been retained. We'll look at the Keeper's Resource Book first.
The Introduction begins by speaking about Keeper preparation. Trail of Cthulhu is a game that benefits from careful advance plotting... yet it can also be played in a more improvisational style by those Keepers who feel comfortable making things up on the fly. This product is designed to support both styles of play, however reading the book in advance seems a good idea even if only so you know what's available for you to refer to mid-game if you favour the improvisational mode! If you prefer to prepare, reading it should provide plenty of inspiration and ideas to inform your planning. It should be studied in conjunction with a knowledge of the Investigators, as it contains additional information about the nature of occupations and the uses of abilities, along with all manner of historical tidbits to weave into your stories for that authentic 1930s feel.
We start by dealing with Abilities. These are divided into investigative abilities and general ones. Each entry covers aspects of its use in the 1930s and more ways for it to be utilsed in play. These include ways in which it can be used and sample clues that could be aimed at an Investigator who has that particular ability. Mechanically, there are special benefits that may be given to an Investigator who has used that ability successfully, these take the shape of favours earned, or even extra points to use in further die rolls in appropriate areas. These are suggestions, use them 'as is' or as ideas to come up with your own benefits. Delightful historical and informative snippets are included as well as a list of crimes and their definitions as used in 1930s America that most Investigators are bound to fall foul of at some point... let's hope the police are not around!
The next section does much the same for Occupations. Here we learn of the state of each profession or trade in the 1930s, and there are suggestions for the sort of contacts a practitioner might have as well as the things that they might do on a day-to-day basis (particularly useful when an Investigator has kept his 'day job').
Then comes a section on NPCs. This provides some fifty NPCs ready-made for you to use as appropriate. Each entry describes the character, gives a short list of relevant stats, and then describes three thngs about the character's mannerisms, habits, or speech that can help you portray that NPC in a memorable fashion. The first twenty are provided with a series of hooks you can use to make them a long-running feature of your campaign, the others are intended to be more 'bit-part' players, used as and when it suits the story. There's all sorts here from thugs and henchmen to law enforcement and ministers of religion, shopkeepers and sportsmen... just about anything you might need.
Finally there is a Sanity and Stability Rules Summary. This will help you, mechanically at least, with the all-important task of reducing your Investigators to gibbering, drooling wrecks.
And the screen itself? A solid three-panel screen with an interesting illustration on the players' side and a wealth of useful charts for quick reference on your side.
Overall a very useful resource for any Keeper. No, you don't need it, but it certainly helps with creating the right background atmosphere of the 1930s and spawns plenty of ideas...
Return to Keeper's Screen & Resource Book page.
Reviewed: 24 January 2017