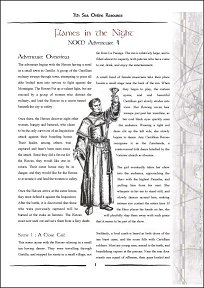 Adapted from the original adventure published in Issue 4 of Novus Ordum Mundi, this adventure deals with that thorny problem of what adventurers do when there's a war on and a recruiting party comes by. (One of my characters discovered that wishing them good fortune in their efforts to attract recruits didn't go down too well...). It was previously available as a free download from the Alderac Entertainment Group website, its fate now that 7th Sea has been passed to the ownership of original game designer John Wick has yet to be determined.
Beginning with an adventure overview which lays out what is intended to happen, we then launch into the first scene where the party is enjoying dinner at a country inn in Castille. They are enjoying a bit of cabaret when the door bursts open and a Castillian recruiting party arrives. They won't take no for an answer either... so unless the party wants to enlist (and thus stop this adventure in its tracks - best have something else up your sleeve in case they do!) they will have to fight their way to freedom. One thing leads to another and eventually they end up being asked to extract some condemned heretics from the clutches of the Inquisition before they are executed! With burning buildings, ambushes, and several more brawls along the way, the party may end up wondering if they'd have had a more peaceful life in the army.
Leading NPCs have full descriptions at the end, whereas Brute Squads are detailed where you are going to need them in the course of the adventure. No maps or plans are provided, if you feel the need you will have to source or create your own. As some cross-country travel, some under time pressure, is involved, you might want to work out at least the general lay of the land, likewise as some of the brawls occur within or around buildings you may well feel the need of a floor plan or two. A thorough proof-read would eliminate assorted minor errors, none bad enough to cause confusion. Other than that, it is an exciting if rather linear adventure for a bunch of sword-wielders passing through Castille.
Return to Flames in the Night page.
Reviewed: 22 January 2017