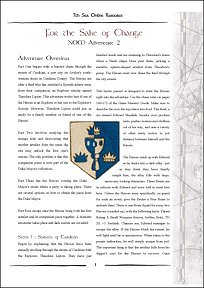 Originally published in the short-lived Novus Ordum Mundi magazine and then appearing as a free download from the Alderac Entertainment Group website, this short adventure leads the party in a merry chase around Cardican, a port city on Avalon's southwestern shore in Camlann County.
It's all about an artefact, and an Explorer friend of the party, and the inevitable light-fingered fellows who are trying to acquire the artefact (hence the merry chase...). There's also a chance to mix in local society and a climax where a dramatic encounter takes place and dark secrets are revealed.
Whilst this is an outline for an adventure with, for example, that madcap chase needing plenty of GM input not least of which is that you'll need to come up with a map of Cardican, there is plenty of atmosphere and excitement to provide an excellent evening's fun.
Return to For the Sake of Change page.
Reviewed: 18 January 2017