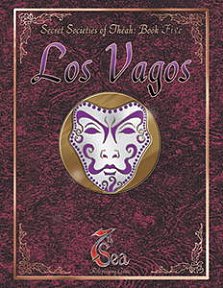 Consider poor Castille. It's being invaded, things are falling apart. Who champions the people? You know, the ordinary ones who just want to live in peace, make a living, raise their families and so on. The ones who suffer in war and get no rewards from the winning or losing of any battles, but are left with homes and livelihoods destroyed, family and friends killed or injured or scattered to the four winds. And then there's the Inquisition, seeking out heresy wherever they think it might be, on the flimsiest of evidence, or none at all.
El Vago does, that's who. A masked and caped swashbuckler who's recruited a small band of like-minded folk who are called Los Vagos, the Vagabonds. Here's the low down on them, with plenty of information for you to incorporate them into your game. Perhaps your party wants to help them. Or, if they are in the service of Montaigne - or the Inquisitors - they want to capture El Vago and put a stop to this. It may be background, or central to your story. However you want to use it, here is what you need to know.
Chapter 1: La Historia talks about when El Vago arose and how Los Vagos came to be formed, against the background of all the dreadful things going on in Castille and the lack of protection provided by state and church for its citizens. The old King Sandoval had died, his heir Prince Javier seemed to be making a fair fist of ruling but then... he vanished. His 13-year-old brother, another Sandoval, found himself king and he is struggling to get out from under the thumb of the church. No wonder a protector is needed - and here we find out who it is, and how things developed from a single rather oddly-dressed fellow on a horse to an entire clandestine organisation. It is a new group, less than a decade old, and very informal. Still, there are notes on how it is organised and how to become a member, as well as what they do, who they are and how they are supported. The chapter ends with some sample groups and safehouses available to them.
Next, Chapter 2: El Héroe presents many important characters, members of Los Vagos and a few new villains as well. Then Chapter 3: Dramatizar provides game mechanics for becoming a member of Los Vagos and various new skills to pick up including yet another fighting style and even advanced riding skills. There are also new backgrounds and rules for important things like jumping from rooftop to rooftop. Apparently El Vago and his followers enjoy parkour!
Finally, Chapter 4: El Juego contains information on playing a member of Los Vagos and why you might want to do so and the effect it will have on the rest of the party. There's also material for the GM, with even more background and some wonderful ideas about how to run campaigns involving or even centred around Los Vagos. For those seeking the heart of swashbuckling epic adventure, this is a good route to go! Perhaps the party will engage in a classic guerrilla campaign, or act as spies. Or maybe there is only one party member who belongs to Los Vagos, but his exploits will inevitably affect the rest of the group. There are background notes on the NPCs introduced earlier, and a sample Los Vagos campaign if you want a hand to get started.
If you picked up 7th Sea because you wanted to swash your buckle, this gives you ample opportunity not only to do so but feel virtuous about it as well.
Return to Los Vagos page.
Reviewed: 12 January 2017