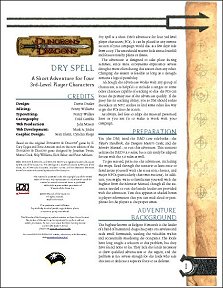 An adventure for 3rd-level characters.
Publisher's blurb: "The dry season has been unusually severe this year, and the locals had planned on bringing water to their towns from the nearby lakes, just as they always had in previous years. This year, however, three lakes have gone dry in a matter of weeks. The locals are frightened, and they face death by thirst if they cannot stop whatever menace is destroying their lakes before the rest of the area's water sources go dry. What kind of power could achieve such a result is anyone's guess, but the locals suspect Relgore Himtooth, the notorious bugbear who leads a band of raiders in the area.
"A short time ago, a squad of militia, apparently summoned by an irate nobleman, set off to find the raiders and end their depredations once and for all. Though the militia reported success, the locals are not so sure. Relgore evidently survived the battle, and he has probably reformed his band by now, just as he has always done before. But gathering and training a new band always makes the bugbear testy, and he always seeks the harshest possible revenge on any humans he can find.
"But rarely is the bugbear subtle about his vengeance, and he couldn't possibly be responsible for drying up the lakes - could he? Surely such a trick would take powerful magic, and the raiders have never shown any magical ability before. Could some new menace be threatening the area, or does Relgore simply have a new trick up his sleeve?"
Book Details:
Author: Darrin Drader
Publishers' Reference: Unknown
ISBN: n/a
PDF, 7 pages
Date: June 2004
Buy this product:
Product page last updated: 22 June 2016