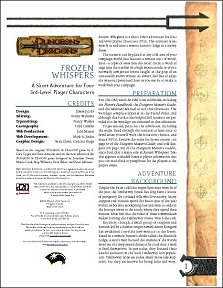 An adventure for 3rd-level characters.
Publisher's blurb: "Despite the bitter cold that reigns here nine months of the year, the Timberway Forest has long been a source of prosperity for civilized folk who live nearby. Many trappers and hunters spend the better part of the year within its borders, stockpiling furs and meat to trade in the frontier towns to the south, where they spend their winters. Most feel that the value of these commodities makes braving the Timberway Forest worth the risk.
"Recently, though, a small group of trappers and hunters has awakened a terrible new menace in the forest. Based in a remote hunter's abode called the Bluerock Lodge, they hunted the animals of the woods more out of a deep-seated desire to be cruel than a need to feed themselves. In particular, they focused their hateful attention on the local Timberway lion population. Timberway lions are rather small (more like leopards), but they are known for being lithe and wary. Still, the trappers had the advantage of intelligence and tools, and before long they had slaughtered the entire pride save for its leader. As the winter worsened and game grew ever more scarce, this last surviving lion began to starve. At that point, the darker forces of nature took notice, and the Timberway Forest gained a predator like no other."
Book Details:
Author: James Jacobs
Publishers' Reference: Unknown
ISBN: n/a
PDF, 9 pages
Date: May 2004
Product page last updated: 19 June 2016