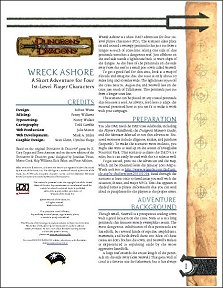 An adventure for 1st-level characters.
Publisher's blurb: "Though small, Seawell is a prosperous trading town with a good location on the coast. Next to it is a long peninsula that features mostly swamplike terrain. The inhabitants of this peninsula include tribes of lizardfolk, plus several kinds of reptiles and amphibians. Most of these creatures don't bother the town, and Seawell's militia is experienced at repulsing raids by the more aggressive lizardfolk.
"A large reef extends the entire length of the peninsula on the side away from Seawell. This great wall of coral is a favorite site for fishermen, but it has always presented a serious hazard to ships approaching from that direction. Thus, about 45 years ago, the people of Seawell built a lighthouse on a small promontory near the reef, about 200 yards from the shoreline. Operated by a family that lived inside it, this lighthouse ensured that ships could easily steer clear of the reef.
"A few weeks ago, ships stopped arriving from that direction. Three ships are now overdue, and the people of Seawell have begun to suspect foul play. Thus far, however, they have not been able to investigate because of increased raiding by the lizardfolk. Something has stirred them up, and the town militia has been too busy repulsing raids to mount an expedition to the reef."
Book Details:
Author: Robert Wiese
Publishers' Reference: Unknown
ISBN: n/a
PDF, 11 pages
Date: April 2004
Buy this product:
Product page last updated: 18 June 2016