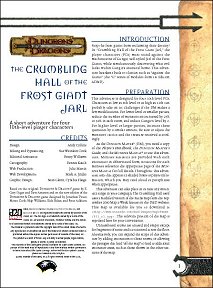 The basic premise of this adventure is that some frost giants - who normally eke out a precarious existance as bandits high in the mountains - are having ideas above their station, harking back to long-ago days when they were a force to be reckoned with in the area. There's a bit more detail regarding who's involved and their intentions in the background notes for the DM, of course, but the fact that they are getting a bit frisky is pretty much common knowledge.
A few hooks are provided to help you get the party interested, but it's left to you to decide where their lair - this crumbling hall - might be, with a suggestion that you might make finding it part of the adventure, involving research of old records as well as exploration in hostile conditions.
The actual contents of this module start with the crumbling hall itself. It's based on September 2001 offerings in the Map-a-Week feature on the Wizards of the Coast website, with the relevant portion being reproduced here (although the original link in the PDF still works at the time of writing). It's a pretty straight-forward delve with some nice touches, but just about every creature encountered is going to fight, no questions asked. There are a few surprises, though...
A chilly challenge with nice detail and one unique creature that could prove... interesting, especially if it gets loose.
Return to The Crumbling Hall of the Frost Giant Jarl page.
Reviewed: 16 May 2016