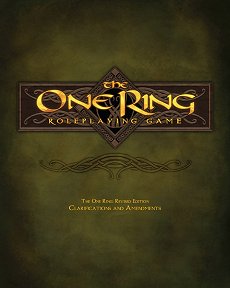 If you have the original 2-volumes-in-a-slipcase version of the core rules - The One Ring: Adventures over the Edge of the Wild - you may be wondering about whether or not you want to buy the one volume The One Ring Roleplaying Game that came out in the summer of 2014. If you are not a mad completist, this PDF contains all the actual rules changes that have been made so you can have a look at make up your own mind.
Starting with the Adventurer's Book, there are detailed, fully page referenced lists of the changes made, all clearly highlighted in red text. The Loremaster's Book gets a similar treatment.
Of course, if you are only now coming to this great game, you'll want to purchase The One Ring Roleplaying Game, but if you have spent your hard-earned cash on the original game you may not want to splash out on the new version. With this you don't need to, although you might want to spend some time annotating or pasting things in to your books - easier of course if you have them in hard copy, but it's possible even in PDF... that's what I've done as I don't have The One Ring Roleplaying Game yet!
What is particularly good is that Cubicle 7 Entertainments have seen fit to put this out, rather than expecting everyone to rush out and buy the new version. It's the sort of thing that builds up brand loyalty and indeed makes one more inclined to keep buying their product!
Return to The One Ring Revised Edition Clarifications and Amendments page.
Reviewed: 15 March 2016