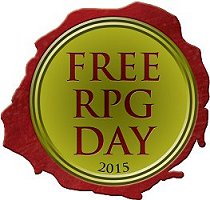 This year, Free RPG Day is Saturday 20 June 2015. Organised by Impressions Game Distribution Services, publishers are encouraged to donate product to game stores so that they can give it away for free! This year's goodies include:
Paizo: Pathfinder Adventure Card Game Pack
Syrinscape: "Soundsets" Free Sound Gift Cards
Goodman Games: DCC RPG GM Screen
Steve Jackson Games: Munchkin Bookmark with Unique Game Rule
Paizo: Pathfinder RPG Adventure
Goodman Games: Fifth Edition Fantasy Adventure Module
Catalyst Game Labs: Cosmic Patrol Quickstart
Catalyst Game Labs: Shadowrun/BattleTech Quickstart Flipbook
Catalyst Game Labs: Valiant Universe RPG QuickStart
Chessex: Commemorative Dice
Pelgrane Press: 13th Age RPG / Night's Black Agents RPG Flipbook
Khephera Publishing: Atlantis RPG / Hellas RPG Flipbook
Campaign Coins: Silver Sword 1000 Coin
Troll Lord Games: Castles & Crusades Adventure: "Shadows of a Green Sky"
Wyrd Miniatures: Through the Breach RPG Quickstart
9th Level Games: Kobolds Ate My Baby Adventure: "YOU IZ KOBOLD"
Blue Panther: Custom Free RPG Day Dice Tray
Impressions: Free RPG Day Logo Pencils!
Off World Designs: Free RPG Day Employee T-Shirt (XL) - Note: this won't be given away, we don't want half-naked store employees running around!
Page last updated: 6 April 2015