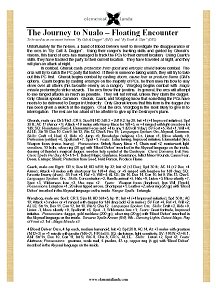 Designed to be run between By Cult and Dagger and By Tooth and Claw, the adventurers have attracted some unwanted attentions...
Publisher's blurb: "Unfortunately for the heroes, a band of Blood Delvers went to investigate the disappearance of the orcs in "By Cult & Dagger". Using their ranger's tracking skills and guided by Ghorak's visions, this band of orcs has managed to track the PCs to their current location. Using Caark's skills, they have tracked the party to their current location. They have travelled at night, and they will plan an attack at night."
Thanks to Dunham Studios for making this available.
Available FREE from the Dunham Studios website, click HERE to get your copy.
Book Details:
Authors: C.K. Dunham
Publishers' Reference: Unknown
ISBN: Unknown
PDF, 3 pages
Date: Unknown